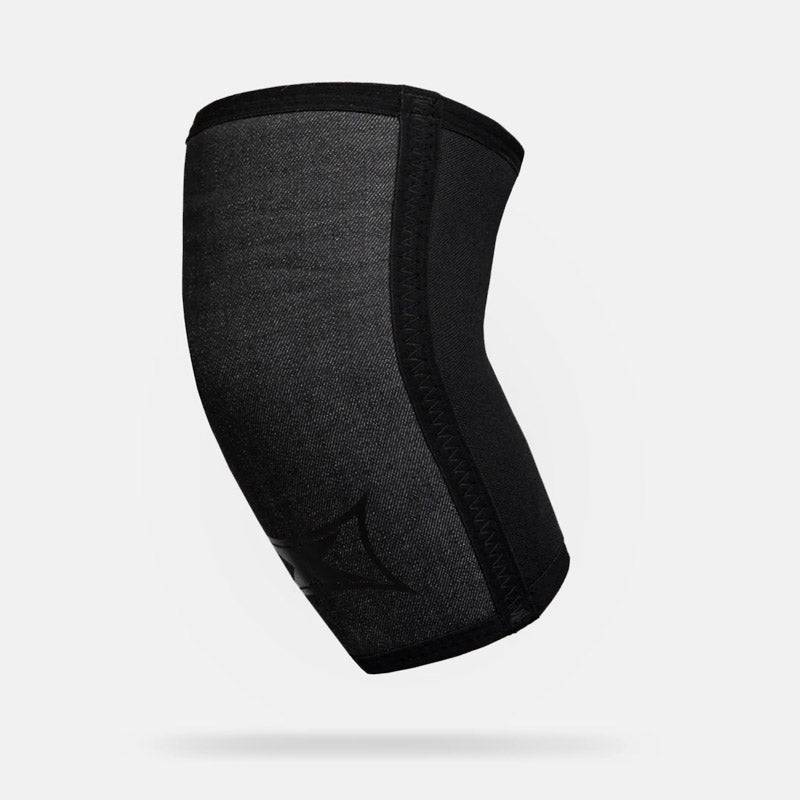 Sling Shot | Extreme "X" Elbow Sleeves
In stock
Pickup available at XTC Fitness Inc.
Usually ready in 1 hour
Sling Shot | Extreme "X" Elbow Sleeves
S
XTC Fitness Inc.
Pickup available, usually ready in 1 hour
2222 South Sheridan Way
Unit 112
Mississauga ON L5J 2M4
Canada
+18889823481
The all-new Extreme "X" Elbow Sleeves are the stiffest elbow sleeves on the market. The specialty fabric front panel allows for minimal stretch and maximal support. These sleeves offer next level support and can be used for increasing strength - providing you with the strongest rebound under maximal weight, no matter the sport.
The Extreme "X" Elbow Sleeves are recommended for experienced lifters. Due to the nature of the material and length, these sleeves will be more difficult to put on in comparison to the Strong Elbow Sleeves.
Next Level Support! 7 mm thick, Level 4 material for elbow, bicep, tricep, and forearm support throughout the entire pressing movement
Ideal for multiple sports + movements! Perfect for powerlifting, STrongman, wrestling, bench press specialists, + bodybuilding movements
Lift heavier weights! Maximal compression and stiffness for that extra pop and rebound under tension
Reduce your pain! Constant compression + warmth reduces pain from elbow tendonitis/arthritis by increasing blood flow to that area
Recover faster! The constant compression reduces swelling to the area of compression during and after training!
Recipe for PRs! Xtreme "X" Elbow Sleeves provide optimal stability + warmth so you're able to hit heavier weights, more reps, and overall more volume and training intensity! More training volume, the more weight you can handle.
Sold as a pair
Designed in the USA. Manufactured with global materials.
| | |
| --- | --- |
| Size | Flexed Bicep (in) |
| S | Under 11 |
| M | 11.5 - 13 |
| L | 13.5 - 15 |
| XL | 15 - 16.5 |
| 2XL | 17 - 18.5 |
| 3XL | 19 - 20.5 |
| 4XL | 21 - 22.5 |
| 5XL | 23 - 24.5 |
Sleeves: 6 months
 Manufacturers warranty does not cover any damage that occurs on the front of the product. E.g. The bar scraping the front of a sleeve and ripping/tearing the neoprene.
 If gear or apparel are cleaned with a washing machine or dryer, this voids the warranty.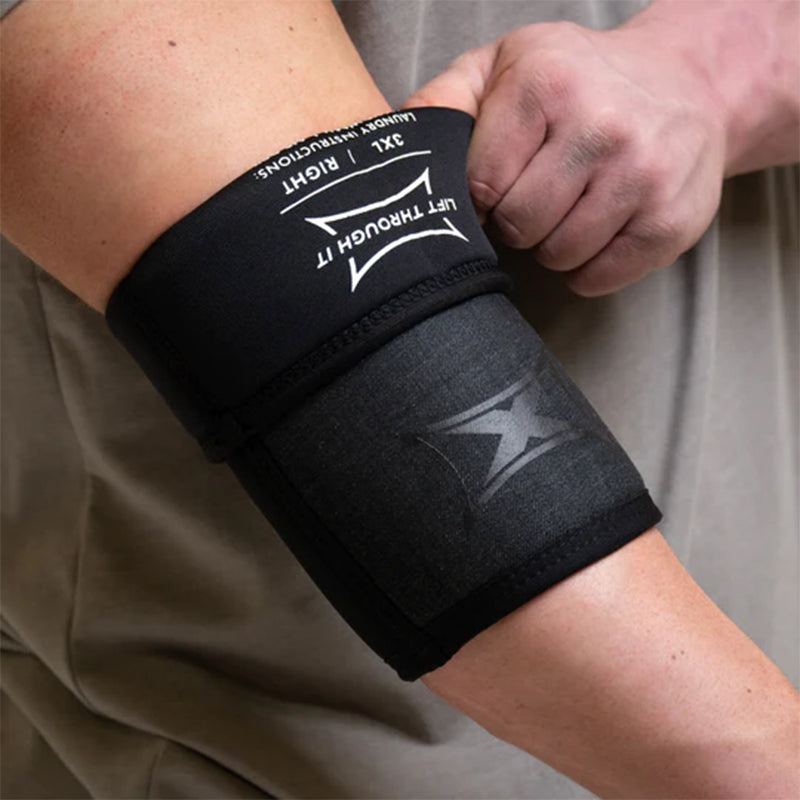 Next Level Support
Experience enhanced support and superior performance with Sling Shot | Extreme "X" Elbow Sleeves! Our Level 4 7mm thick material provides maximum support for your elbows, biceps, triceps, and forearms as you power through lifts, throws, and presses. Whether you're into powerlifting, strongman, wrestling, bench press, or bodybuilding, these sleeves are the perfect accessory to bolster your performance.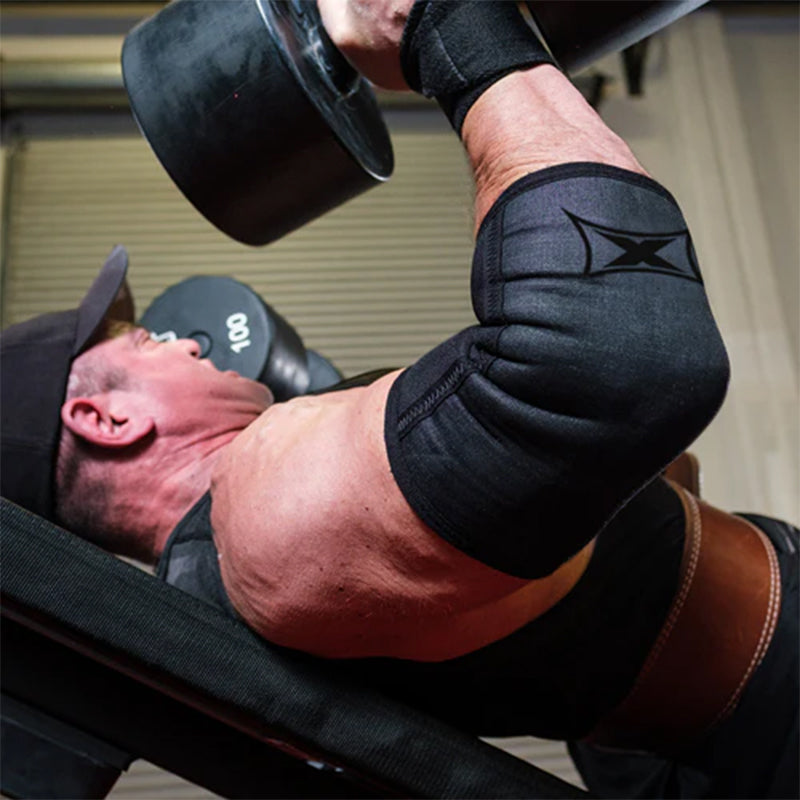 Lift Heavier, Recover Faster
Lift heavier with confidence! Get the most out of your workout with maximal compression and stiffness for extra power and padding. Alleviate elbow pain with constant warmth and compression to increase blood flow and reduce tendonitis/arthritis symptoms. Recover quickly with reduced swelling from compression during and after exercise!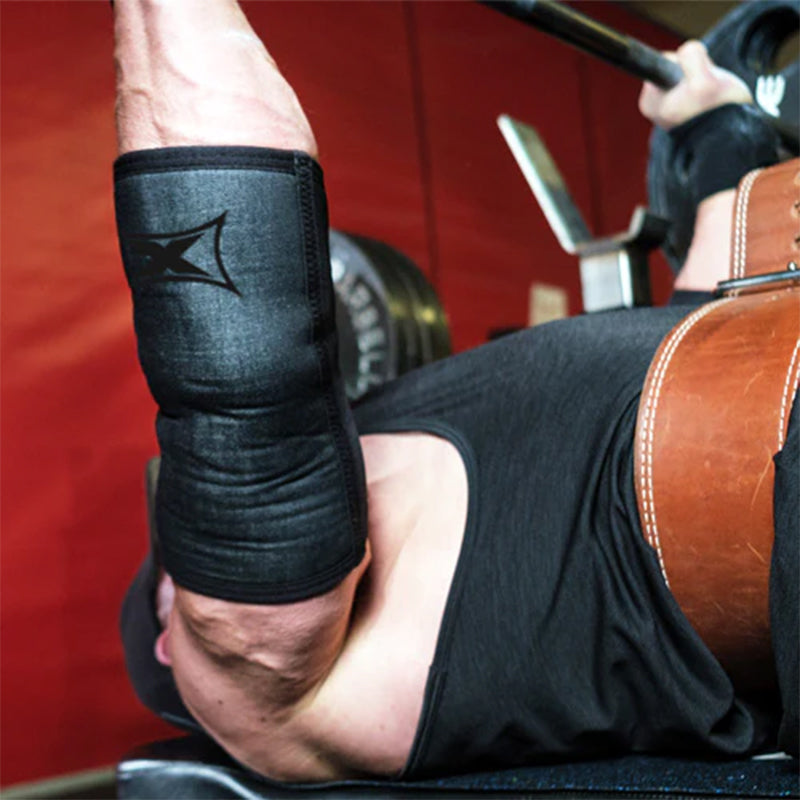 Increased Intensity
Increase your training intensity with Xtreme "X" Elbow Sleeves; they provide reliable stability and warmth so you can conquer heavier weights, more reps, and higher training volume! With higher volume, you can cover more ground and reach your PRs faster.