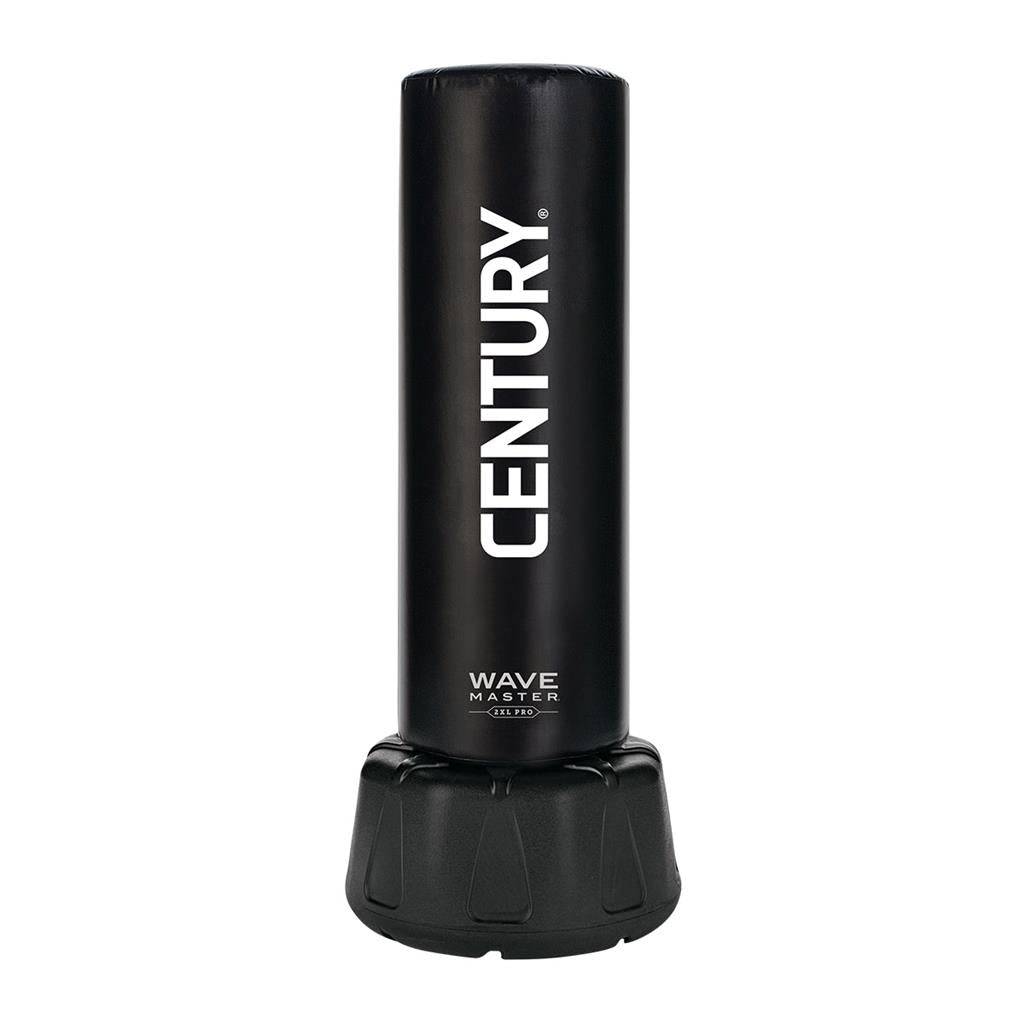 Century | Wavemaster - 2XL Pro
In stock
Pickup available at XTC Fitness Inc.
Usually ready in 1 hour
Century | Wavemaster - 2XL Pro
XTC Fitness Inc.
Pickup available, usually ready in 1 hour
2222 South Sheridan Way
Unit 112
Mississauga ON L5J 2M4
Canada
+18889823481
Made with high-density foam padding for maximum impact absorption, the Wavemaster 2XL Pro features the most padding of all the Wavemaster bags, plus a longer striking area for practicing kicks and punches. The tapered base allows for an unimpeded stance for athletes of all sizes. Bag and base lock in place, while the base can be filled with water or sand. Approx. 270 lbs. when filled with water.
Durable: The durable vinyl material results in minimal stretch and easy to clean. This bag can take years of punishment without any required conditioning
18" Striking Surface: 18" of a striking surface allows one to hone in their skills and movements during strikes
High-Density Foam: This bag is filled with highly durable, furniture-grade foam that will last for years. The solid foam structure will handle even the most vicious and brutal strikes from the most intense training
Fortified base: The Base is engineered to resist flexing and withstand years of rigorous use. The circular, grooved structure is easy to move around the space, but distributes stress to absorb and dissipate force. In addition the extra large fill hole and cap allows you to easily fill base with sand or water
Small Footprint: Designed to be space efficient without sacrificing power. With a 24" narrow profile, space for storage and movement is made easy
Omni-Directional Movement: Even thought the bag takes a beating with minimal shift, the bag is easily moved by tilting it and rolling where it needs to go. No unscrewing!
Locking Secure Pylon: The core of the Wavemaster is an ultra-secure locked nut stem utilizing a triple-locking mechanism. As a result, the Wavemaster will not loosen from its base over years of use. Additionally, the tapered end flares to resisit stress and redistribute flexing without tears or breaks
Outdoor Use Capable
Easy assembly and disassembly
Manufactured in the USA
Dimensions: 52" (H) x 18" (W)
Base Dimensions: 28" (W) x 14" (H) (features a tappered design unlike the Wavemaster XXL)
Height Adjustments: Fixed
Function: Free standing
Weight: Approximately 270lbs water filled
Colour: Black with White accents
Materials: Durable heavy-duty Vinyl construction. Base made of high strength plastisol
Convenient port with screw-on cap on top of base for filling
Base can be filled with sand or water
Shipping Box Details
Dimensions:
Box 1: 67.5 in x 19 in x 19 in
Box 2: 28 in x 28 in x 16 in
Weight:
Box 1: 26lbs (11.8 kg)
Box 2: 22lbs (10 kg)
PICKUP NOTICES:
Boxes DO NOT fit in sedans or coupes. For pick up please arrive with an adequately sized vehicle such as an SUV, Truck or Van. If you own a HATCHBACK and your back seats fold down the box will fit.
TRUSTED WORLD LEADER SINCE 1976
Century was founded in 1976, eventually growing into a worldwide leader in martial arts equipment. Along the way, Century has been responsible for some major innovations within the industry such as Wavemaster®, the original freestanding training bag, and the BOB® body opponent bag.
BOB® bags frequently pop up in TV shows and movies, including 'The Office,' 'Deadpool,' 'Justified,' 'Horrible Bosses,' 'Parks and Rec,' 'Whiskey Tango Foxtrot,' and 'Elementary,' to name just a few!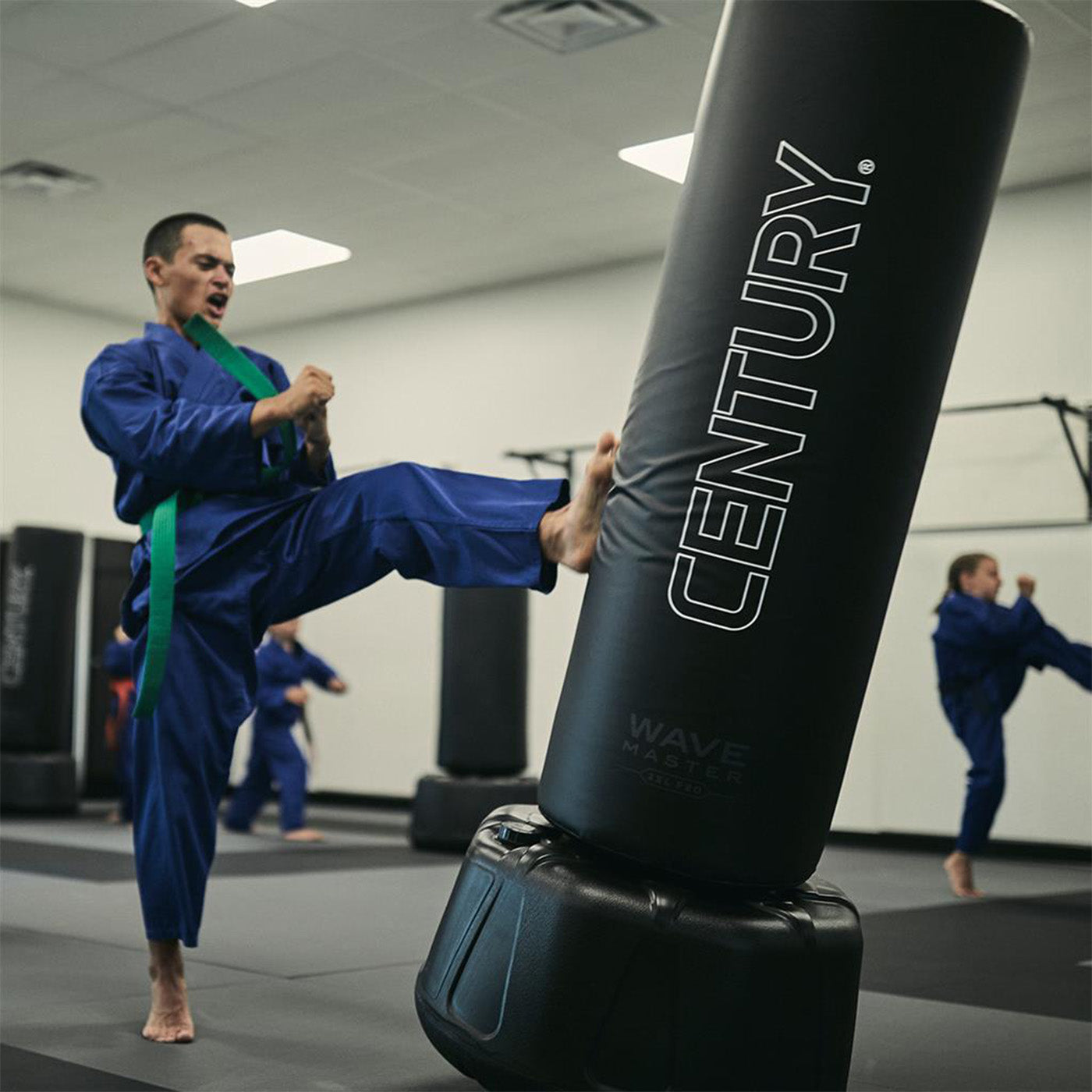 The Most Secure Locking System of Any Century Product
The core of the Wavemaster is 2 ultra-secure locked nut stem utilizing a triple-locking mechanism. One part of the locking system compresses the bag against the second locking system with everything fastening to the base. The tapered end flares on the locking-system resist stress and redistribute flexing without tears or breaks. The result is a bag that will not loosen from its base over years of use.
The triple-locking mechanism makes the Wavemaster 2xl Pro the most secure and reliable locking system Century has ever made!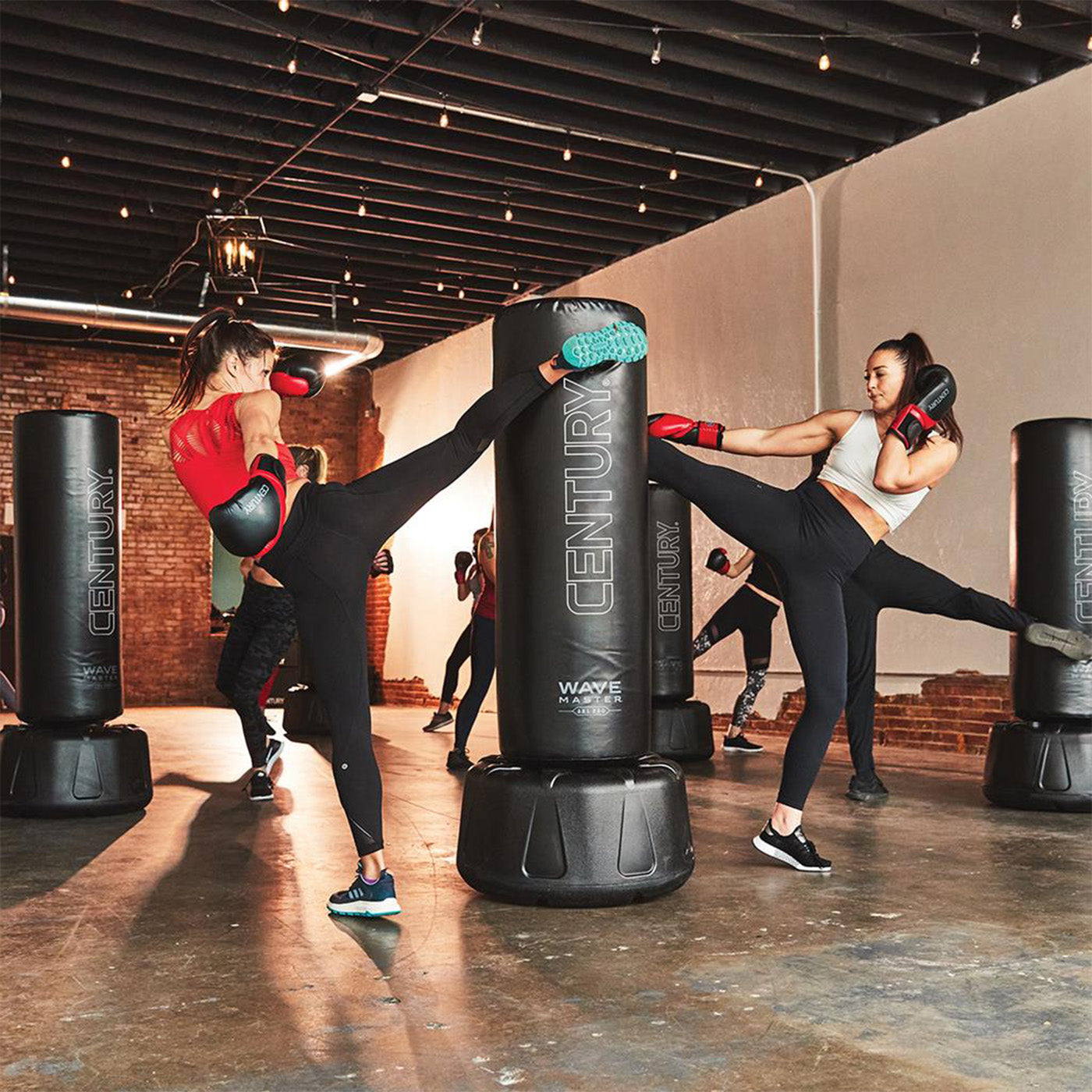 Installation-free and easy to move
This freestanding bag can be used for the same types of training as a traditional heavy bag, but with several advantages. If you wanted to train on a bag, you needed to hang it. Which meant drilling holes in your ceiling or wall, or investing in a hanging bag stand. However, with a free standing bag simply remove the item from its box, velcro the bag onto its base, and then start using!
In addition, the Torrent free standing bag makes portability easier than ever. Simply tilt the bag where the side of the base meets the floor. Then just roll the bag out of your way. Store it in a corner, a storage area, or against a back wall. The possibilities are endless with this freestanding bag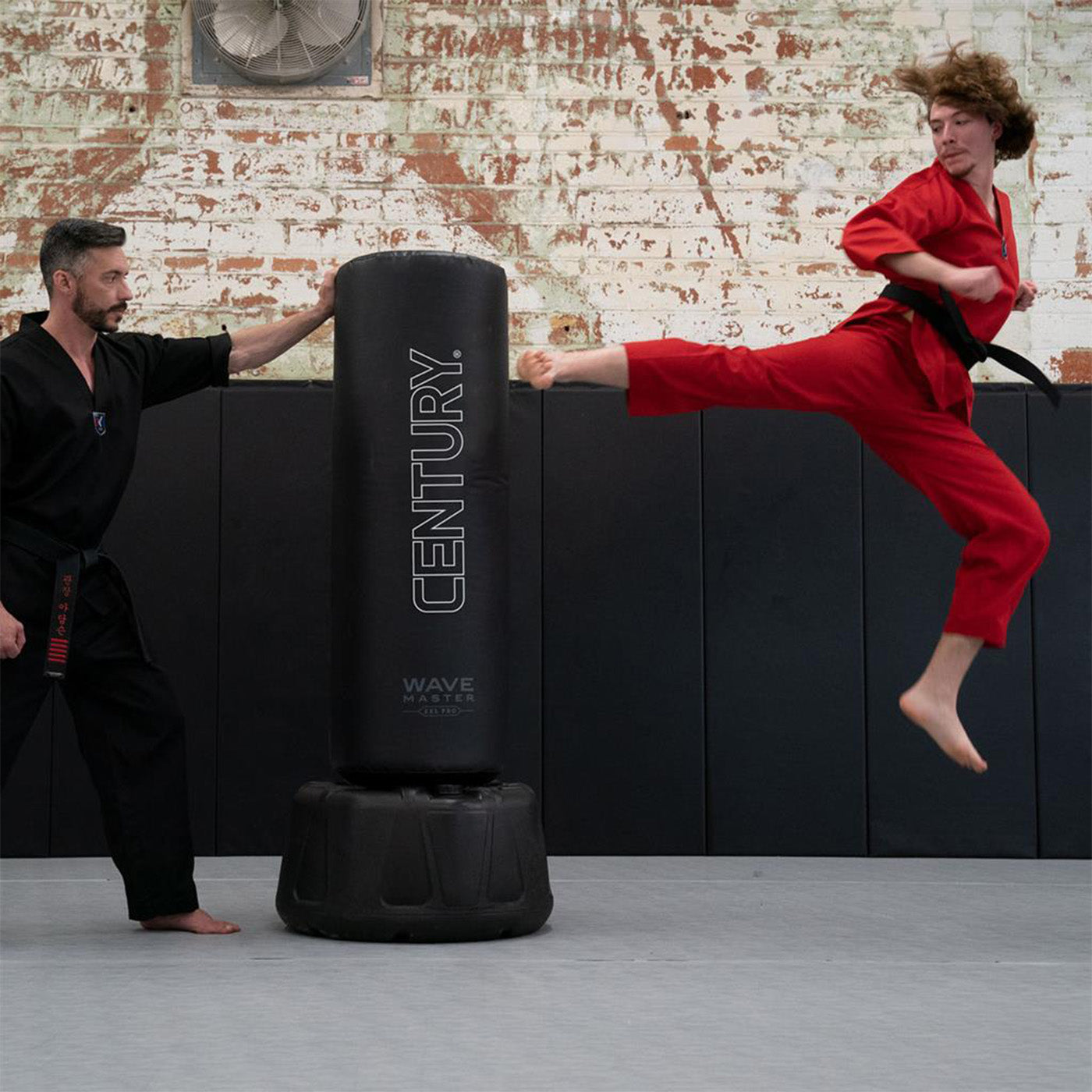 Highest Quality
Made in the USA, there are many great things about getting your bags from Century. One is the variety. Another is knowing you're supporting an North American company. Century uses official testing. Their products undergo rigorous testing to ensure they meet industry standards. They fill the bags with high-quality material. And firmly believe that the better the equipment you train with, the better your training results will be.
| | |
| --- | --- |
|  Age Group | All Ages |
| Bag Type | Freestanding |
| Base Dimensions | 28" Diameter x 14.25 Height |
| Bag Dimensions | 18" Diameter x 52" Height |
| Height | 67" Total Height |
| Line | Wavemaster |
| Martial Arts Style | Multiple |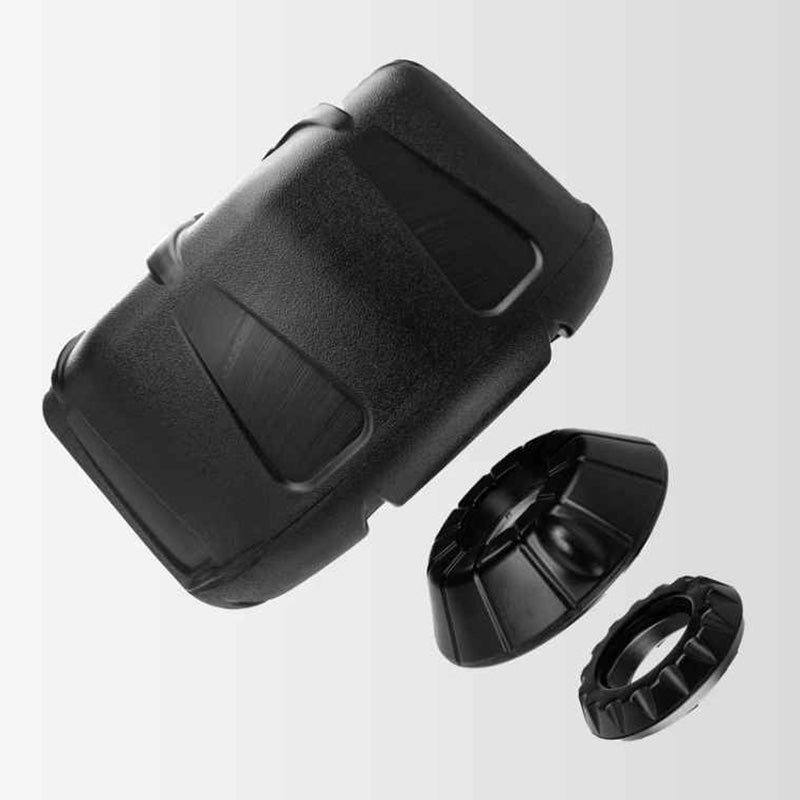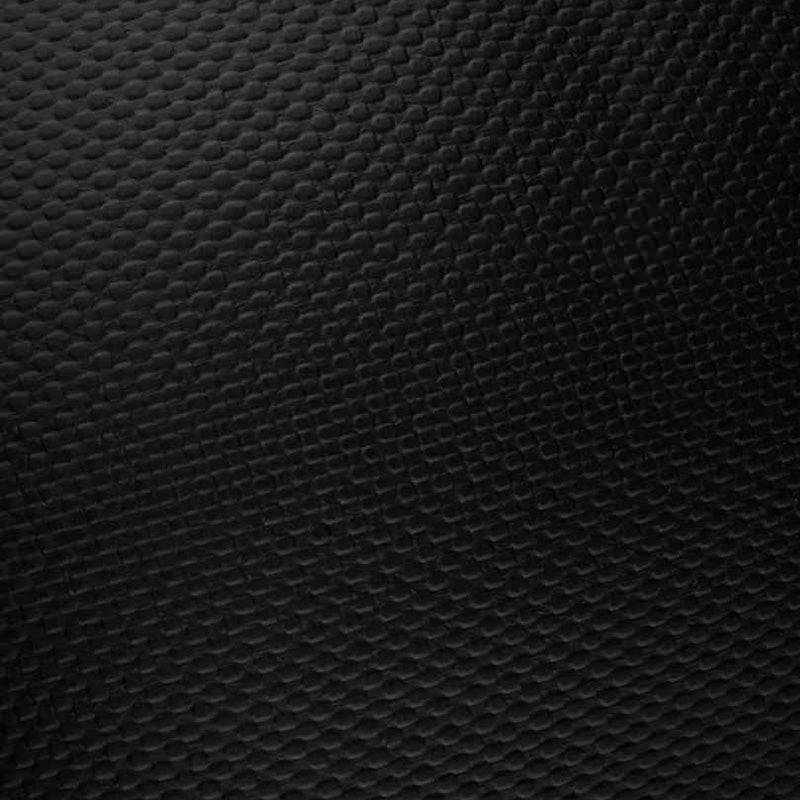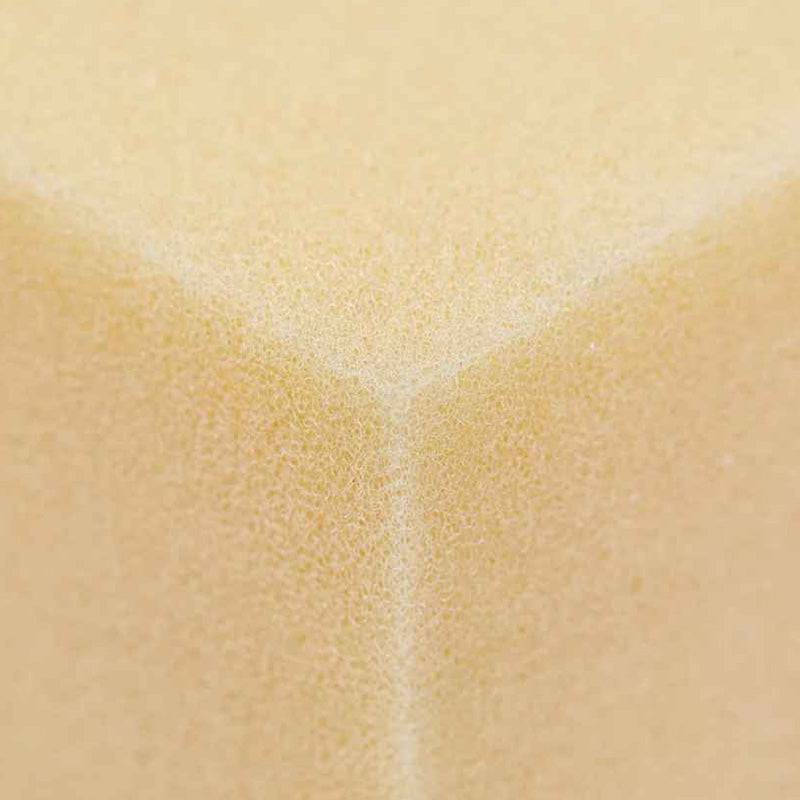 My two kids and I use this almost daily and we absolutely love it. They are 8 and 6 and have no problem kicking and punching it. Exremely easy to fill the base (we used water) and put together. Would recommend to anyone.
Anonymous