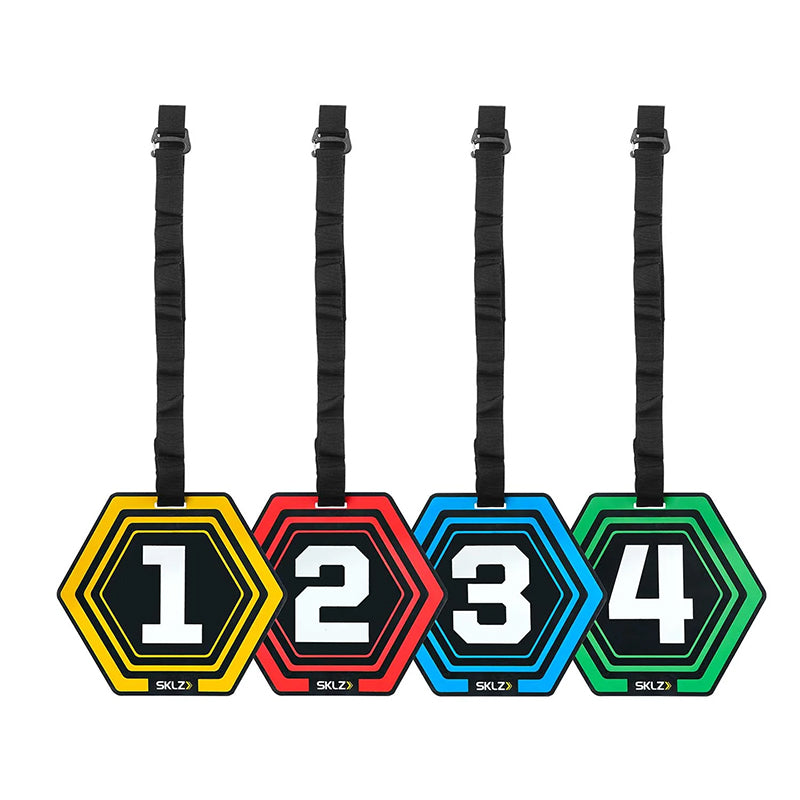 SKLZ | Reactive Agility Targets
This item is available online as a special order.
Combines mental and physical training to help improve coordination, reaction time, and accuracy. Includes programming and content designed by certified trainers.
Improve coordination, reaction time, and accuracy by combining mental and physical training
Develops Athletic Intelligence™ by increasing hand-eye coordination and the ability to read and react
Includes online exclusive programming and content designed by certified trainers
Easily attach targets with multiple clip attachment positions to goals, defensive mannequins, poles and more for versatile training
Designed with a honeycomb texture on the back of targets for grip on flat surfaces
Includes four targets in four different colors and numbers to enhance random response and memory
Features four long straps and two small straps for smaller goals or poles
Markers measure 8.75" x 7.75"
Item Dimensions: 8.66 x 7.48 x 1.1
Weight: 2.1 lbs
Sport Type: Athletic Training, Baseball, Basketball, Football, Hockey, Lacrosse, Soccer, Softball, Volleyball
Skill Level: Advanced, Beginner, Intermediate
Training Type: Accuracy, Athletic Intelligence
Role/Position: Coach
Style Type: Adjustable
1 Year Warranty
This warranty does not cover damages resulting from:
accident
misuse
abuse
anticipated wear
lost merchandise or
damage from the elements
Do not leave products outside, as prolonged exposure to sun and rain will degrade them. Damage due to weather exposure is not covered under warranty. This warranty is valid in Canada only. Proof of purchase is required for warranty coverage.
enhance your talent & skills